Independent singer/ songwriter, musician, poet, engineer, and producer.
Fred Gillen Jr. Biography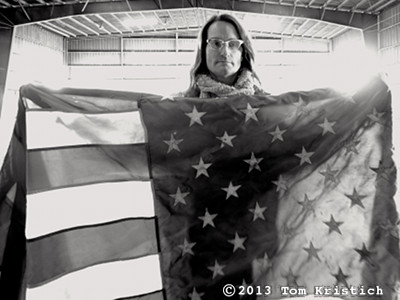 Fred Gillen Jr is a singer/ songwriter, producer, and multi-instrumentalist from New York's artistically rich Hudson Valley. In his songwriting and in performance he has never been afraid to take on controversial or politically-charged topics, and is equally at home writing love songs and sing-along anthems. He seamlessly incorporates folk, punk, rock, spoken word, country, and Americana styles into his music. 2017 brought the release of his 10th full-length, independent album, "What She Said." It came out on a milestone date, the 20th anniversary of his 1997 debut "Intentions As Big As the Sky." The twelve songs on the album poetically express his views about the world, while also showcasing his unique acoustic and electric guitar style and heart-felt singing.
Gillen began his music career in the late 1980's as a bass guitarist with New York metro area bands including, most notably, the "CMJ Jackpot Pick" Rain Deputies and progressive rock band Modern Mass, performing at legendary NYC venues such as CBGB, Mercury Lounge, Irving Plaza, and the Lonestar Roadhouse. In 1996 he shifted his focus to being a singer/ songwriter and recording engineer and producer.
An extremely prolific songwriter, Gillen's material covers a wide range of topics, but tends to lean towards social commentary. His nine previous solo albums and two albums with Hope Machine have received radio play and glowing reviews all over the world. His songs have also been featured on ABC-TV's "All My Children," MSG Network's "NYC Soundtracks," NPR's "Car Talk," the CMJ "Music Marathon" album, and Folk Alliance's "War and Politics" album. In 2012 his version of Woody Guthrie's "I Ain't Got No Home" was featured on Pete Seeger's "Pete Remembers Woody," an album of Pete Seeger's spoken stories about Woody Guthrie, interspersed with various artists performing the songs. His songs have also been recorded by several other Hudson Valley artists.
As a performer Gillen has played solo shows all over the U.S. and Europe. His first European Tour was supported by a NYFA (New York State Foundation for the Arts) grant. He has opened for a wide variety of artists including Merle Haggard, David Bromberg Big Band, Todd Rundgren, and Fred Eaglesmith, and he has performed on stage with Pete Seeger, Peter Yarrow, Tom Chapin, John Hall and other great folk and rock artists. He is equally at home on a big festival or theatre stage as he is at a house concert, farmers' market, or in the NYC subways as part of the Music Under New York program. He has built a substantial following with his spontaneity, soaring voice, storytelling, and ability to connect in many different venues and contexts. Besides his solo shows, he is a member of The Greenheart, a music and visual arts group who in 2017 and 2018 made three trips to Nepal and one to India performing and doing music and art workshops to celebrate and support environmental projects. The group has a tour planned for summer of 2019, "A River Runs Through Us," which will travel to six different rivers in Nepal. Another recent project producing a song co-written by Grammy-winning songwriter and fiddler Lisa Gutkin and Woody Guthrie has led to he and Gutkin playing some shows as a duo. Gillen also plays as a sideman playing guitar, bass, and percussion with various NY metro and Hudson valley artists, and is a member and co-writer with the twangy rock band Hot Rod Pacer.
Gillen is a busy recording engineer and producer, primarily working out of his own studio "Woody's House" in Croton on Hudson, NY. He's worked with many artists from folk artists like Pete Seeger and Hudson Valley Sally to Jazz vocalist and drummer Tony Jefferson to Americana favorites Red Molly to string bands such as Shovel Ready String Band. He often co-writes with various members of his Hudson Valley music community, and has served as President of Tribes Hill, a non-profit HV music organization. Gillen's community work also informs his songwriting. His social justice activism makes its way into the songs he writes and the stories he tells at his shows, as does all of the traveling he has done over the years.